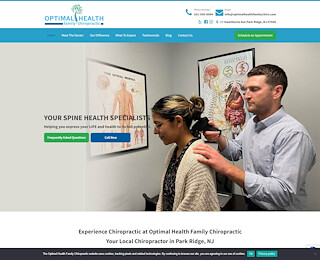 Optimal Health Family Chiropractic is a leading pain clinic with an excellent team of chiropractors and hundreds of positive reviews. Our chiropractic office in Ridgewood is affordable, has the lowest patient waiting times, and accepts most insurance plans.
About Us
We are one of the leading chiropractic clinics in Ridgewood with a clean, comfortable, and cutting-edge facility. Dr. Andrew O'Neill is a licensed treatment provider specializing in chiropractic care in Ridgewood. Dr. O'Neill possesses over 21 years of experience and is an expert at improving posture and spinal alignment.
Listed as one of the best local chiropractic clinics, Dr. O'Neill has helped hundreds of patients maintain a healthy posture, proper spinal alignment, and normal body functioning. Our chiropractic and pain management services go beyond just giving adjustments. We use a combination of physical therapy, massage therapy, and dietary and lifestyle modifications alongside chiropractic alignment in Ridgewood, helping our clients attain pain relief in the long term.
What Are The Benefits Of Chiropractic Care?
Chiropractic care is a therapeutic form of treatment that alleviates pain and improves the range of motion. Visiting a high-profile chiropractor on a regular basis can help you attain several health benefits, such as:
Improves Neck Pain
Neck pain is common for people who spend several hours a day sitting. Also, those who bend their neck to use the phone or suffer from poor posture can experience neck aches. A chiropractor can ease your neck pain by realigning the imperfections in your spine and alleviate the tension in your neck muscles using spinal manipulation. A 12-week spinal manipulation treatment can offer more promising relief than medications. Although, you will need to go for follow-up sessions at the 8-, 12-, 26-, and 52-week mark.
One study found that cervical spine manipulation helps reduce neck ache in the short term by modifying the levels of the neuropeptide in your blood. Neuropeptides are proteins in your nervous system that function as neurotransmitters or hormones.
Reduces Reliance On Opioid Pain Relievers
Thousands of people with chronic pain conditions rely on opioid pain relievers to cope with their health ailments. Choosing chiropractic treatment for pain can lower your reliance on pain relievers and reduce your risk for drug abuse. Not to mention, prescription drugs can cause side effects in the long term. Chiropractic adjustments are safe and free from side effects.
Eases Back Pain
Chiropractic treatment is a healthy and safe alternative to surgery or injections for those dealing with short-term or chronic back pain. A combination of spinal manipulation, exercise, and acupuncture can help reduce the pain significantly.
How To Find A Chiropractor?
Ask for useful recommendations from your family doctor or physical therapist. You may also ask your friends, coworkers, or family members for recommendations.
You want to work with a licensed chiropractor to garner the best outcome in recovery and prevent health complications. Check the reviews for a chiropractor on Google to learn about their skill level, expertise, and experience.
Call our chiropractic office in Ridgewood at 201-505-8984 to book a consultation with Dr. Andrew O'Neill. With over 21 years of extensive chiropractic experience, our professional uses a whole-person approach to help his clients overcome pain and attain an improved range of motion. Dr. O'Neill specializes in Chiropractic Biophysics (CBP), a technique used to improve posture and spinal alignment. Get in touch with Optimal Health Family Chiropractic today.